What's New
Southern Sudan
Malawi
Somalia

Real World Productions (RWP)
Real World Productions designs and produces media projects, services and materials to improve education and health in the United States and worldwide.
RWP provides media planning and production, implementation support and training to address specific goals in education and social development. We often partner with governments, non-governmental organizations and private companies to build the productive capacities of people and organization active in education, health and social service. We do this through culturally sensitive technical assistance and training and through strategic partnerships.
Much of our work relates to materials and systems for English language instruction for speakers of other languages. As part of this work we focus on promoting inter-cultural understanding and global awareness.
RWP is committed to improving education and public health through appropriate applications of research and technology, and through effective media and human systems design.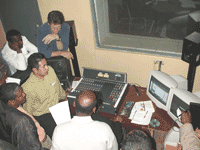 Training Ethiopian educational radio producers in new digital studio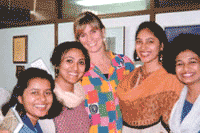 Working with primary school radio English course writers in Bangladesh