Associates
We provide services of some of the best professionals in their disciplines. In recent projects we have employed:
ESL/EFL specialists
evaluation specialists
training designers
language teacher trainers
digital audio trainers
studio designers
graphic artists
composers
musicians
illustrators
animators
writers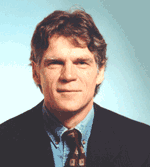 Stuart Leigh
Stuart Leigh - Founder and Executive Director
Stuart has wide experience in educational media and systems planning, design, production, capability analysis, training, management and evaluation. With broad technical and management skills, he has been leading the Real World Alliance in the Philippines to produce the IELTLM project, Improving English Language Teaching and Learning in Mindanao, part of USAID's EQuALLS project addressing educational deficits in Muslim Mindanao. Stuart has recently assisted Management Systems International (MSI) leading an evaluation team for a major USAID-funded education initiative in Southern Sudan; the Academy for Educational Development and Ethiopia's Educational Media Agency training media writers and technical staff to produce three years of English for Ethiopia, and moving the Agency from analog to digital production; Sesame Workshop by helping develop the first international Sesame Street Radio Project, Takalani Sesame; the Stuyvesant High School Foundation producing documentary video; Planned Parenthood of New York training public health workers; Project Troubador producing an HIV/AIDS prevention music video in Benin; and the Urban League of New York writing School Leadership Team training curriculum.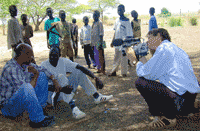 Videography in Gambella, Ethiopia
As Technical Advisor to the Open Learning Systems Education Trust (S.A.), he designed and was instrumental in establishing the South Africa Radio Learning Project to improve primary English and math education, and teacher training. This was done through RWP's participation in the LearnTech consortium with the Education Development Center. For USIA and Macmillan Publishers he produced and co-wrote "Tuning in the USA", a 52-part radio series teaching English and representing American culture via worldwide radio and print. For four years he inspired appreciation of world cultures and language among American youth by creating and performing over 300 1/2-hour broadcasts as "The Duke of Words", heard nationally on public radio's KidsAmerica, and occasionally from stages around the country.
Stuart has work and broadcast credits in the U.S., Southeast and South Asia, Africa, the Caribbean, South and Central America and China. Recently he was invited to work through the Speakers Program of the U.S. State Department, presenting to audiences in Benin, Niger, and Cameroon of the subject of media design for HIV/AIDS prevention. For over 30 years his projects reveal a commitment to promoting health, education, and and intercultural understanding. He has taught in universities at undergraduate and graduate levels; and he has conducted numerous workshops for trainers, teachers, writers, producers and project planners.
Rebecca Kalin - President
Rebecca is a creative campaign designer who has developed health and education programs to be used in both formal and non-formal settings. She has participated in all aspects of curriculum development, materials design, hands-on production and the teaching of those skills to others. Her work includes audio, radio, video, animation, print, multimedia and face-to-face interaction. Through years of international work, she has developed expertise in instructional design for low-literacy and ESL target audiences. In Ghana, she initiated, researched and produced a public health poster campaign for Ewe language speakers.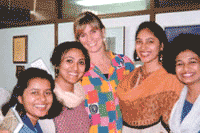 As an Albert Schweitzer Fellow in New York City, she designed self-care instructions for Limited English Profiency (LEP) patients discharged from the emergency room of New York's Bellevue Hospital. For several years Rebecca was one of two full-time technical advisors to the South Africa Radio Learning Project (SARLP). In that capacity, she helped design and develop curricula and materials for four grade levels, assured quality of radio-based educational projects, and trained scriptwriters and graphic design staff. She guided the planning and production of all collateral print materials including workbooks, comic books, teacher guides, classroom enrichment kits and posters.
Rebecca has a Masters Degrees in Communication from New York University (1989), and in Public Health (Honors), from Hunter College, City University of New York (2001), and National Health Educator Certification (2001). She was an Albert Schweitzer Fellow in 1999-2000 and finalist for a Soros Fellowship in 2002.