Clients/Partners
Education Organizations

Education Organizations
We often work with substantial non-profit education organizations or other firms assisting the public sector or that are commited to international educational development projects or to improved educational practices in the United States. Among them are:
Academy for Educational Development (AED)
Education Development Center (EDC)
Management Systems International (MSI)
Ateneo de Zamboanga University (Philippines)
Notre Dame University at Cotabato City (Phil.)
Nepal English Language Teachers' Association
Children's Museum of Manhattan
Urban League of New York City
NYC Department of Health
New Visions for Public Schools
Literacy Partners
World Bank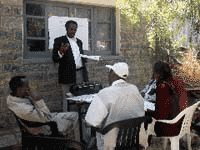 Media Officers' Training
to support "English for Ethiopia"
Mekelle, Tigray, Ethiopia, 2004.