What's New
Real World English
Other ESL

Real World English:
Tuning In to Language and Culture
In 2002 we acquired the copyright to "Tuning in the USA", the 52-part educational radio drama series we originally authored and produced for the United States Information Service and Macmillan Publishing. We have now updated this award-winning series. This year-long series of 52 10-minute radio programs is applicable to the needs of English learners and teachers worldwide. It also provides a realistic view of multicultural America. Learners are led through four levels of linguistic complexity as they work with the materials. To date these programs have been broadcast in over 25 countries. We are currently distributing or developing plans for distribution in China, Japan, Korea, the Philippines, Tanzania, and a number of countries in Central and South America.
The materials consist of 8 audio CDs or cassettes, 2 176-page Listener's Guides (both shown at right), and four Teacher's Guides (not shown at right) with two guides at different levels for each set of 4 CDs and 1 Listener's Guide.
For more information, click here.

Real World English:
Audio and Print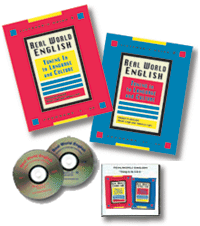 Tuning In to Language and Culture
-- an authentic, flexible ESL/ELL tool